Even after a basketball National Championship, Louisville Cardinals fans are a disgrace to real sports fans. The comments I see from them always makes me chuckle. Recently some loser posting as "Alrighty Whitey", Travis Druden has been spamming my website with ignorant (typical Louisville fans) comments. His debates are weak, like always from Louisville fans. I will touch base on a few of these.
Louisville is ahead of Kentucky in all sports -
http://www.usatoday.com/sports/college/schools/finances/
Kentucky leads Louisville in money made from sports. That is the end of that debate. (BTW, the Yum! Center is losing money as we speak, LOL)
Coach Cal Cheats -
Maybe, but who doesn't? To say Louisville runs a clean program is hilarious.
Players at Louisville among the nation's dumbest – nothing was done!
Bribes, payoffs and sex cover-up. Arkansas fired their coach for lying. Louisville gave theirs a raise.
Football staff is full of cheaters.
Louisville basketball players are criminals (nothing new).
Football team has criminals on roster.
Louisville has better fans -
After back to back Final Fours (and a National Title), Louisville couldn't even average a sellout crowd per game. UK who lost 1st round in the NIT, once again, led the nation.
http://fs.ncaa.org/Docs/stats/m_basketball_RB/Reports/attend/2013.pdf
Even Charlie Strong mocks Louisville fans. Read here. (he claims UK fans are better, lol)
This is the fanbase of a team ranked in the top 10 and undefeated -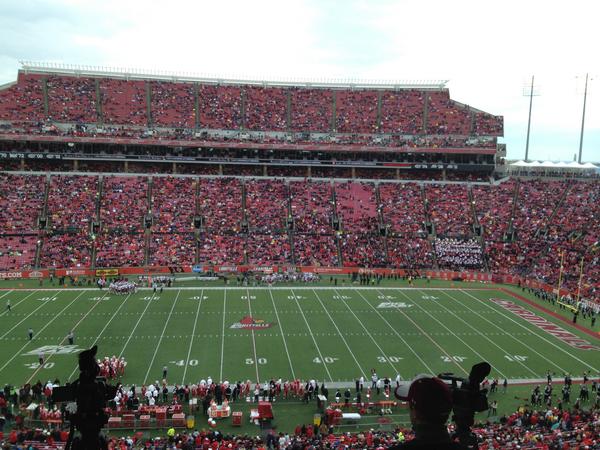 Ranked in the top 10…. Yet no fans. Yes sir, Louisville sports! Getting drunk and arrested before the game means more than watching it! You compare this to elite programs?
I could go on and on. Debating Louisville fans is a complete waste of time.  They are the world's most ignorant fanbase. They make Matt Jones seem like the world's smartest man.