Our cops take a lot of heat. Give them props for putting these jobless losers in their place. Occupy Protesters were clearly harassing customers and employees of Chase Bank in the Highlands. These losers then disobeyed the law and got a beat down!
An 11-minute video, shot by protesters, shows much of the confrontation, including protesters standing in the doorway; a protester holding the door open as a police officer and a bank security guard try to shut it; and a protester standing in front of the door as a police officer tried to open it.
In one of the confrontations caught on tape, a police officer appears to kick toward the camera. A protester, later identified as Donald J. Baum, then picked up the officer by the waist and spun him around. Baum, who was charged with assault on a police officer, was freed Monday on $125 bail.
Louisville Metro Assistant Police Chief Kenton Buckner said during an afternoon press conference Monday that police are reviewing tapes of Saturday's clash, but they think the officers' response was appropriate.
Meet Donald J. Baum, a jobless loser that harasses people that do work.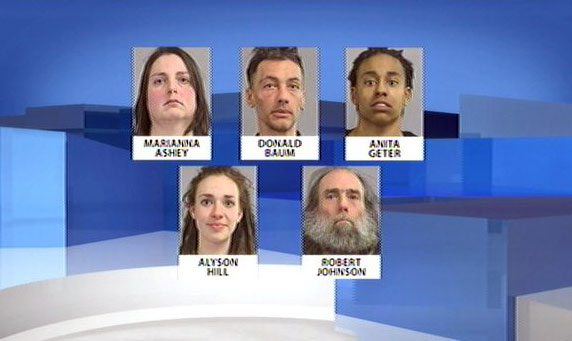 Meet the Protesters – five losers. I'm sad that the Police didn't shoot these losers to be quite honest.
Good job Louisville Metro Police! At least my tax dollars went to a good cause. I'm sick of feeding these jobless Occupy Protesters!